Our goals for 2015 were created in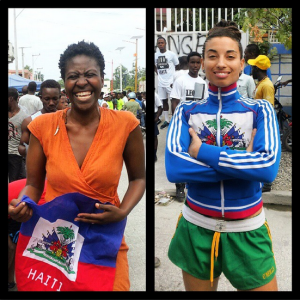 collaboration with the leadership of Ayiti Resurrect in Komye. The community has formed teams around on women's self-empowerment, sustainable agriculture, education, art, and natural healthcare, with over 20 Komye residents actively planning with us for Ayiti Resurrect's community-led initiatives. 
In January, Ayiti Resurrect core collective members Naima Penniman and Beatrice Anderson travelled to Haiti to meet with our Komye partners. They held 16 planning meetings to prepare for the April AR delegation and also coordinated several community initiatives: a five-mile race to raise funds for water systems, an earthquake safety workshop, donations of 4 water filtration systems, the establishment of a scholarship fund for Komye children, and a beautiful commemoration of the 5-year anniversary of the ea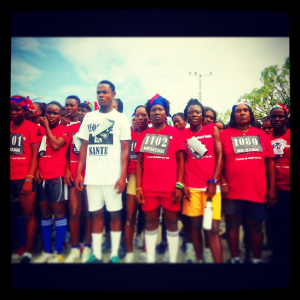 rthquake.
In April, 13 delegates from Haiti, Trinidad, and the U.S. joined our partners in Komye, Leogane Haiti for an intensive week of healing work for the people and the land.  Our first day was dedicated to orientation and planning. We learned about the on-the-ground progress made since the last delegation. The farmers had constructed woven living walls to repair gullies and prevent further soil erosion on degraded lands. A new community food garden was thriving and a worm composting bin was turning out nutrient-rich soil. A cooperative of artisan chocolate and coffee producers had formed and demonstrated their hand-scale, quality-focused operations. With AR support, the Bigonet s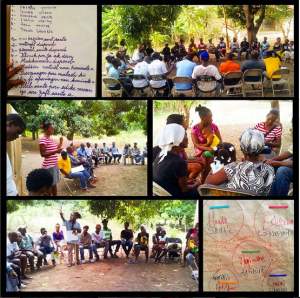 chool community created a tree nursery and began reforesting the campus, and so much more!
After an inspired morning, diasporic and local partners met in groups and solidified the programming and clinics that would be shared with the community. Over the coming days, our goals were achieved above and beyond our expectations!
In less that one week we collaboratively:
Trained community members in water sanitation methods, including the use of moringa seed powder to kill infectious agents and methods for creating hand-washing stations out of recycled materials.
Offered two days of natural wellness clinic, free-of-charge, to community members in the upper and lower regions of Komye. Services included herbal medicine, pre-natal and maternal care, acupuncture, Kimetic reiki, massage, essential oil therapy, and yoga and breathing for stress reduction.
Co-coordinated an artist exhibitionsupporting local artisans in displaying their work to an international audience. Members of AR and the artists were interviewed for Haitian television.
Offered health education for children and adults, including a folkloric puppet show on health topics for the youth, and adult workshops for men and women on sexual health.
Held women's workshops that included self-love ciphers (exchanging self-care and wellness practices) and sexual self-determination.
Co-created two value-added products using locally-sourced, affordable ingredients: an herbal first aid bundle and a salt and sugar exfoliating, cleansing scrub. Participants dialogued about developing women-led micro-enterprises.
Facilitated a computer class for women focused on the basic skills of computer use and word processing. Established that the class would continue with knowledgable community members sharing their skills with the women's group.
Planted in the community herb garden to collectivize and centralize accessibility of plant medicine, and also cultivate different native species that are endangered.
Established an ongoing natural wellness clinic and apothecary with local healers and practitioners that will operate out of a beautiful structure made out of recycled glass bottles that reflect amber, green, and cobalt blue sunlight inside.
Generated a 6 month plan for community workshop series about the benefits of local plants for healing.
Gathered photos and descriptions of medicinal plants to create a guide book to help people learn how to identify, harvest and prepare the native herbs growing in the region.
Offered African diasporic storytelling, dance, and music at the Bigonet School, using ringplay games and empowerment songs of Black and Haitian pride.
Presented the school administrators and teachers with donations of art supplies, pencils, paints, notebooks, and other school supplies.
Distributed $2,000 in scholarshipsthrough three schools in Komye for students with outstanding fees.
Facilitated a planning meeting to address the water shortage in the community. We invited a water engineer to help decide on a course of action– to drill a new well– and began to work on gathering funds to realize the well.
Distributed material resources to our Komye partners to support their ongoing work, including medical supplies for the healers, smocks for the artists, protective clothing for the farmers, and a computer, clothing, and feminine products for the women's group.
"The Ayiti Resurrect delegation is my source of hope that my dreams for the community of Komye, Haiti, and all the world can happen," Emmanuel, AR leader in Komye, said during the reflections and evaluation of this year's programming.
We are humbled to be engaged in this work that continues to deepen and grow in Komye, and grateful for the realization of our collective dreams that continues to stretch all of our imaginations of what's possible when we work together! Thank you for your support of our efforts.
Donate to our continued work!
Buy Art directly from Komye artists!
Contact us about getting involved in the collective here!
THANK YOU 2015 DELEGATES!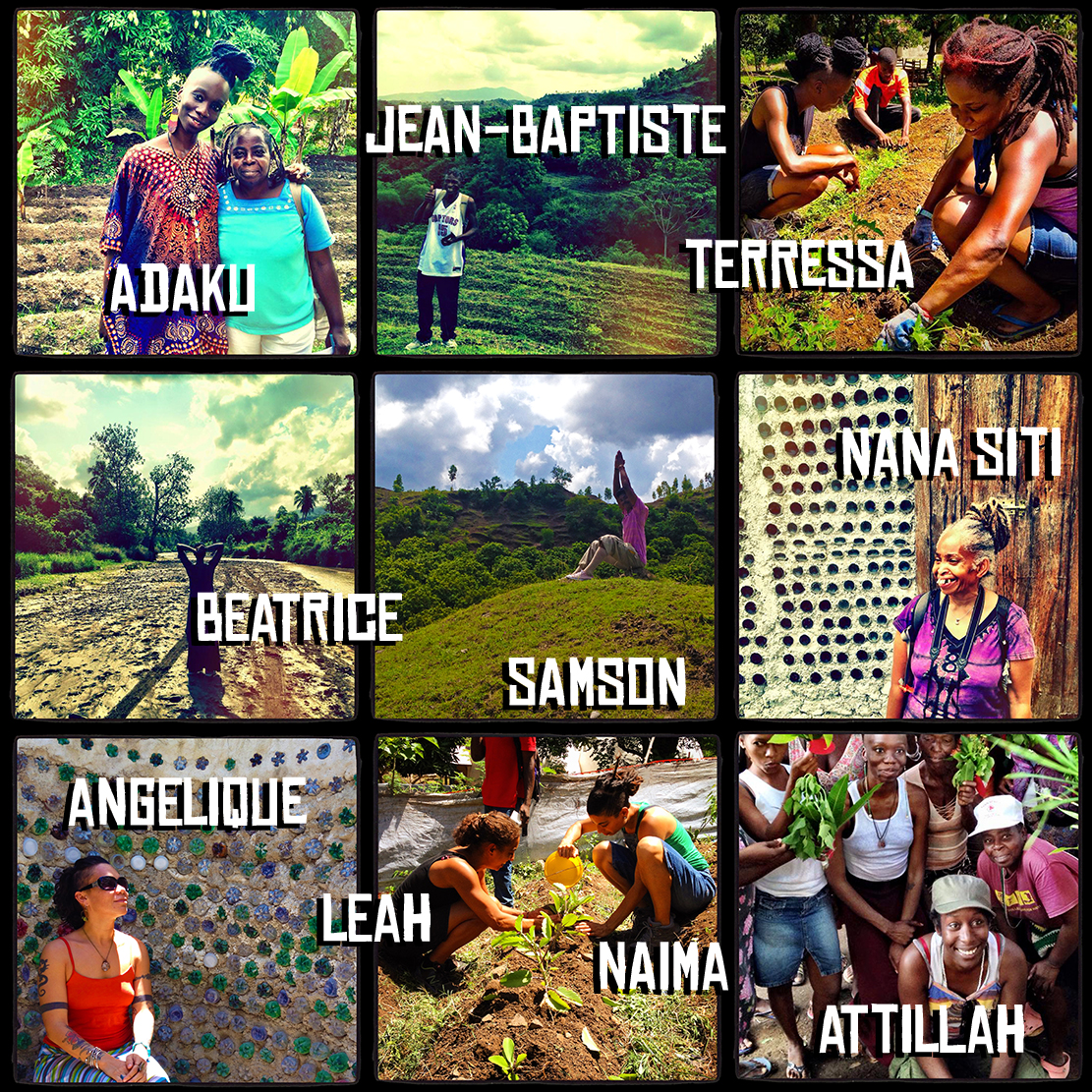 Adaku Utah – Brooklyn via Nigeria
Jean Baptiste Jean Wisnel – Mirebalais, Haiti
T Terressa Tate – Brooklyn, NY
Beatrice Anderson – Philadelphia
Pierre Samson Berlus – Las Cayes, Haiti
Nana Siti Opio – Atlanta, GA
Angelique Nixon – Trinidad via The Bahamas
Leah Penniman – Grafton, NY
Naima Penniman – Brooklyn, NY
Atillah Springer– Trinidad