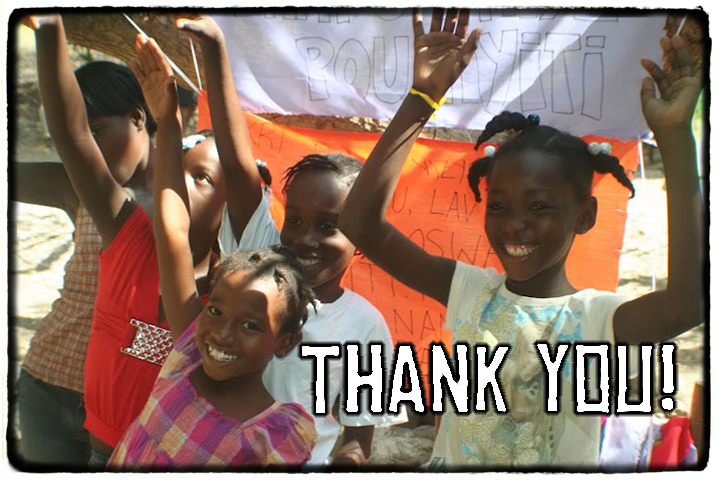 The core collective of Ayiti Resurrect would like to GIVE THANKS to all of those who have supported this grassroots, volunteer-driven work since the beginning!
We would like to thank all those who contributed to our benefits over the years: Flowers 4 Chocolate (Brooklyn, August 2010), HAITI IN:SIGHT (NYC, December 2010), Ayiti Resurrect Holistic Health Fair (Brooklyn, October 2011) , HAITI RISING (Richmond, CA, November 2011), and Fundraising for Healing in Haiti (Nassau, The Bahamas, December 2011). And we offer endless gratitude to all those who have donated through our fundraising sites — wepay and IndieGoGo. And for the last two years, we are so grateful to receive support through material donations and monetary donations for our Reforestation Project in 2013 and our Fourth Delegation in 2014!!!
We are so grateful for your support, prayers, meditations, donations, and blessings for the healing work and community building Ayiti Resurrect is facilitating in Haiti. We are dedicating this page to ALL OF YOU who have supported us and continue to support us. THANK YOU!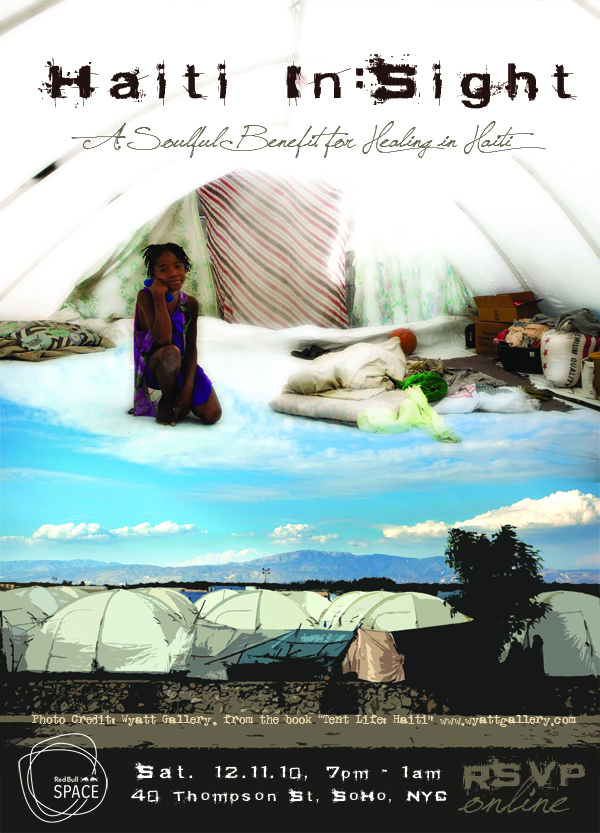 Special thanks to all those who attended HAITI IN:SIGHT, gave dollars, purchased art, and all those who donated their time, talents, and artwork to make this incredible event possible! (the brilliant artists & performers – Imani Uzuri, Climbing Poetree, Mahina Movement, Val-Inc, Gina Athena Ulysse, Sade Dozier, Wyatt Gallery, Vaimoana Niumeitolu, Sabine Blaizin', Shayshahn "Phearnone" MacPhearson, & Hard Hittin Harry; the visual artists – Sade Dozier,Wyatt Gallery, Kimberly Becoat, Musa, Tim Okamura, Monique Schubert, Alexandria Smith, Richard Earthman Laurent & Francks Deceus; volunteers – Ayinde, Adaku, Kala, Tei, Jaz, Melisia, Kenta, Stephanie, Asere, & Melissa; and much gratitude to our co-producer Kim Knox and production team – Angelique, Beatrice, Donna, Naima, and Patricia.) We had over 150 people at our beautiful event, and we are finally unveiling the photos from that powerful night. Check out the pics HERE. We offer this album from HAITI IN:SIGHT as a way to honor your contributions, and the radiance that you brought to our soulful benefit for healing.
~*~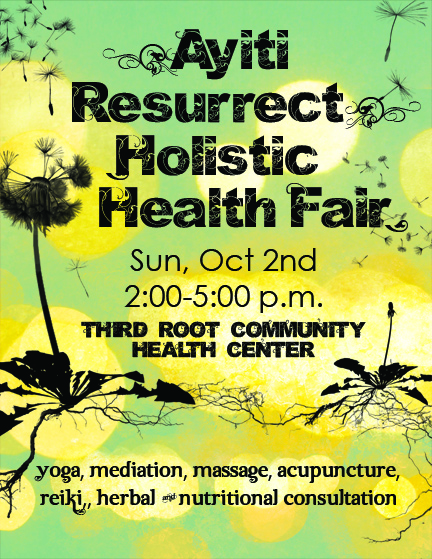 We also give thanks for the powerful Holistic Health Fair (Brooklyn, New York, October 2011); and to all those who attended, supported, and donated their time! We would like to thank THIRD ROOT for so generously donating their space and for partnering with us to make this event happen! Special shout out to Kate Johnson and D Dixon for their hard work in collaboration! Big Thanks to all our volunteers: Adaku Utah, Al Spivey, Ayinde Jean-Baptist, Kate Johnson, and D Dixon. Boundless gratitude to all the practitioners who have volunteered their services in tribute to healing from Brooklyn to Haiti: Julie Brown, Jasmine Nefertiti, Julia Bennett, Ramona Knepp, Anne-Marie Duchene, Sokhna Mabin, Maurice Sangodele-Ayoka, Talesh Lopez, and Wendell Coope. Check out photos from the event here!
~*~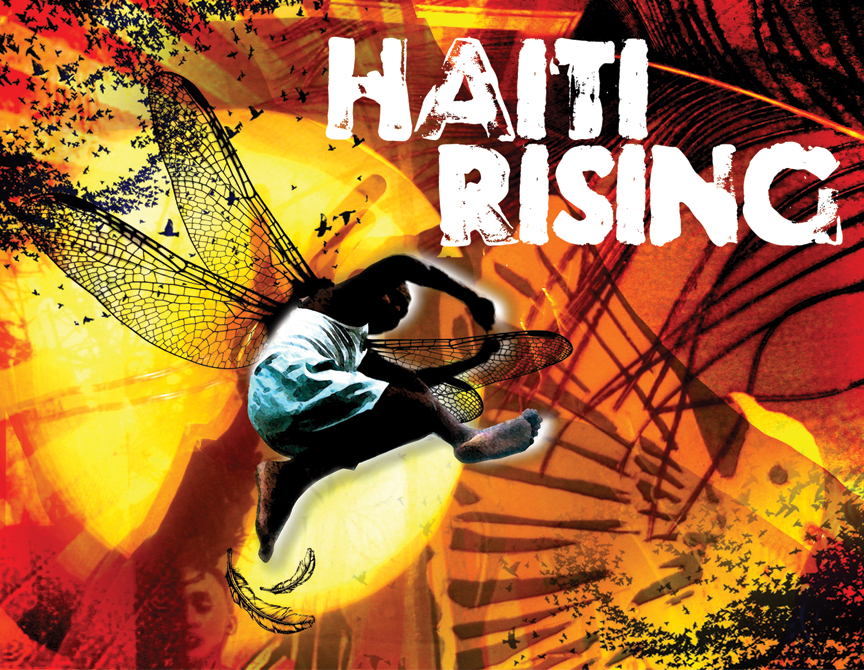 Infinite Gratitude to all who helped create and supported HAITI RISING– a benefit for Ayiti Resurrect that took place at The Nexus in Richmond, California, November 6, 2011- the eve of Fete Gede (Festival of the Ancestors). It was such an incredible, nourishing event filled with medicine and magic! We gathered to honor those who passed in the earthquake and celebrate the resilience, survival and self-determination of our Haitian family. Cynthia Blancaflor from RISING STAR Productions edited a beautiful video with clips from the event!  You can watch it here: http://vimeo.com/32824904
THANK YOU Cynthia Blancaflor!! And endless gratitude to Fanta Lawrence, Lalin St. Juste, Ambessa Negus, Cleome Bova, Gina Breedlove, Richelle Donigan, Climbing PoeTree, Rara Tou Limen Bay Area Haitian Dance Company, Sandrine Malary, Jene Levine Snipes, Abja, Summerlynn Burlews, Monica Anderson, Shukuru, Karma, Dania McManus Wong and Rick Luckens from the NeXus! Grateful to all those who came out to show support!
~*~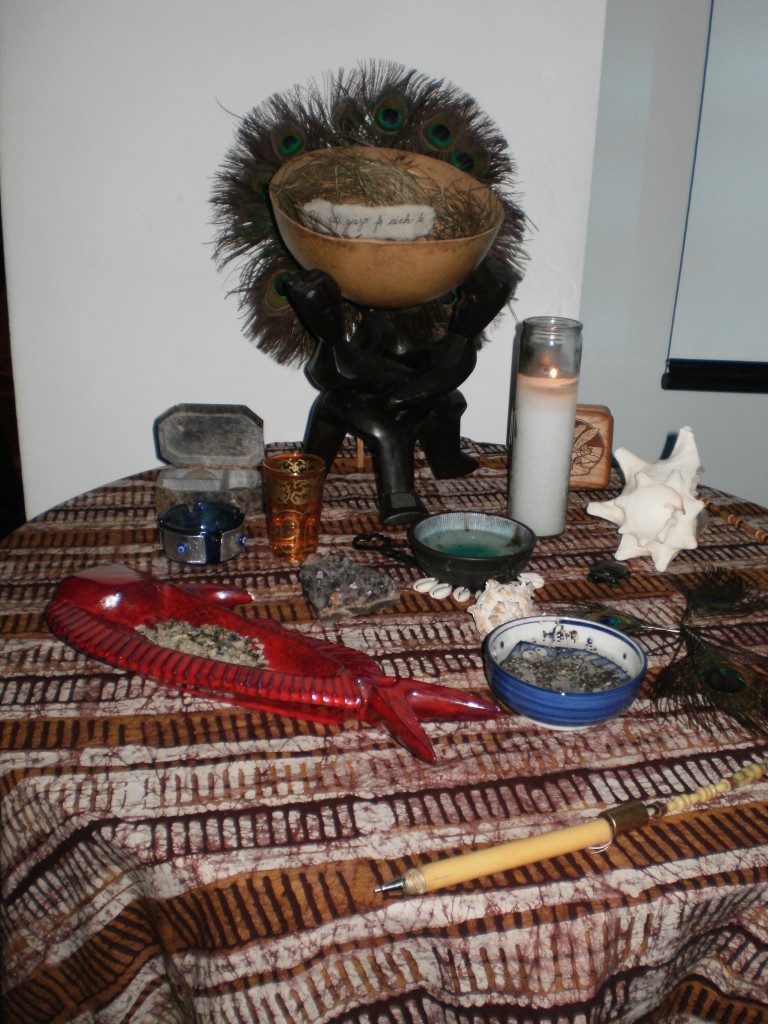 GIVING THANKS to all those in The Bahamas who made our "Fundraiser for Healing in Haiti" happen on such short notice in 2011! Angelique extends so much gratitude to her fam/friends/kin in The Bahamas and to The Hub for a beautiful fundraiser in Nassau on 16th December 2011! — especially to all the performers who shared their talents, words, and music — Erin Greene, Artist Javan, Mark Bethel, Helen Klonaris, John Nutt, Red Eye, and Maz & the rest of the members of Foreign Sound! *** AND so much appreciation to Margot Bethel for donating the venue (The Hub) and its resources and making it all happen!!! And so much gratitude to all those who generously donated during and after the event, including Eldridge McPhee, Marion Bethel, Christian Campbell, Kara Springer, Helen Klonaris, Alistair Stevenson, Vanessa Eneas, and Maz Joachin!!!
~*~
Grants, Supplies, and Generous Donations
1) Extra Special Thanks to the Giving Tree for their grant offering to help with our expenses for January 2011. Our first delegation wouldn't have been possible without your support! And thank you for contributing again this year toward the sustainable agriculture and composting toilet component of the programming!!!
2) So Much Gratitude to Eduardo Marrero for donating a laptop for the community, along with dozens of backpacks and school supplies for children and teens, which we presented to the community during our 2012 delegation evaluation. Thank You!!!
3) Giving Thanks to Dave Burnett for his generous cash donation to our January 2012 Delegation!!!
4) Deep Appreciation for each of our Delegates in 2012 and 2014 who funded and fundraised for their own travel and lodging expenses, as well as their workshop materials. And special thanks to Ekua Adisa, who could not make the 2012 delegation but donated all of her fundraised monies to the collective pool, which contributed to our overall ground expenses.
5) Bountiful blessings from Caledonia Curry with Konbit Shelter – who generously donated $3,000 for our 2014 Delegation!!!
6) Over $1,000 dollars of medical supplies were donated with the support of Dorothy Merriam  and her church, along with 1,000 condoms from Project Safe in Brooklyn for the Health & Wellness Clinic!
7) Thank you to Jeanne and Daniel Turner who donated $1000 worth of supplies for the dental clinic.
*~*~*
We are grateful for the many gifts and blessings Ayiti Resurrect has received through our benefits and fundraisers! We give thanks and want to honor each of you who has made a contribution through our online fundraising campaigns.
For the 2012 delegation: 37 people donated funds to our WePay direct funding campaign! And 41 people contributed to our Indiegogo Campaign!!!
For the 2014 delegation: 27 people contributed to our Indiegogo Campaign and 6 people donated funds to our WePay ongoing support account!
*~*~*
And we have been so blessed to continue our work in 2014 through your generous support. To all those who supported our 2014 delegation in all the ways — from sharing our links to donating funds and materials — THANK YOU!!!
We GIVE THANKS to each and every person who has made our work possible!!! We send out infinite gratitude and blessings in abundance!!!