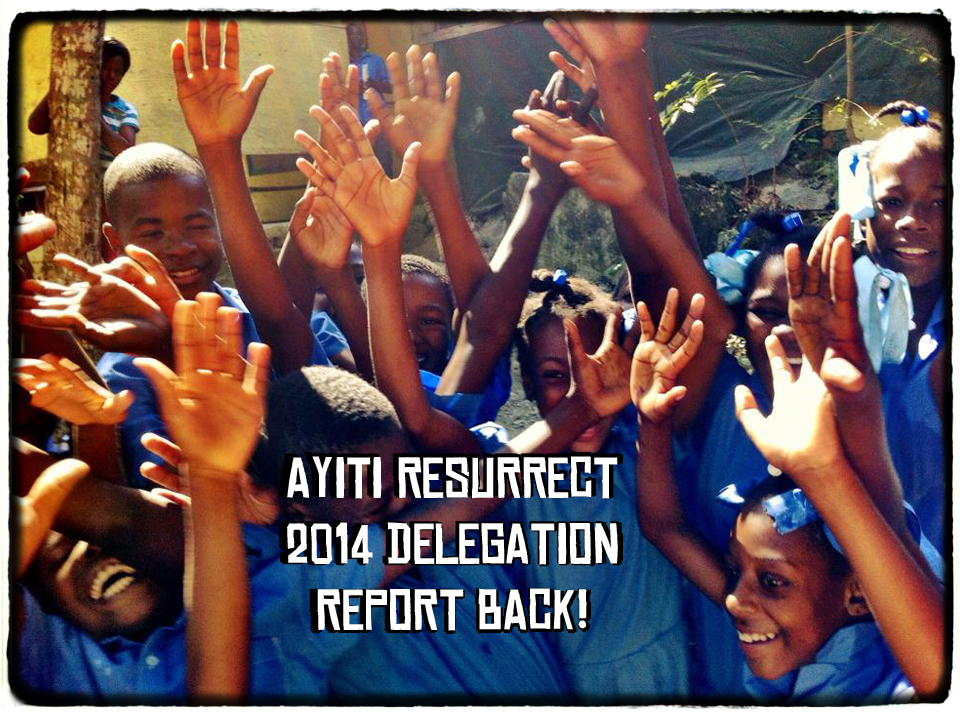 We are so moved, grateful, and honored to have just completed our 4th delegation (Jan 4-15, 2014) in which 22 Ayiti Resurrect delegates teamed up with numerous healers, artists, farmers, and community organizers in Komye (Leogane, Haiti) guided by our hearts and a commitment to reciprocal healing, teaching, and learning. It was truly incredible what we were able to accomplish in our days together, and so thrilled to report back to all of you who have supported us from afar!
* Workshops in the Bigonet School: Experts from the community and AR delegates came together to facilitate classes including: dance and movement, song and music, photography, herbalism, friends of trees, sustainable agriculture, stone carving, recycled crafts, book making, creative writing and theater.
* Community Workshops: Ayiti Resurrect delegates facilitated workshops in and around the community center including: yoga, percussion, song, children's games, photography, peer to peer to counseling, crochet, aromatherapy pillow making, plant medicine, preventative health and first aid.
* Women's Empowerment Circle: came together for 3 days to share personal stories of resilience and healing around abuse and sexual violence, reproductive justice, cooperative economics/ economic independence, and to share methods of practical, radical and holistic self-care (mediation, singing, herbal health and body care).
* Health and Wellness Clinic: Practitioners from Clinic Sante Leogane and Ayiti Resurrect offered consultations, first aid, acupuncture, and medication to community members.
* Dental Clinic: Over three days, three technicians provided free cleanings, fillings, and extractions to people of all ages.
* Artists Peer-to-Peer Skill Share: over 50 artists spanning disciplines of dance, theater, sculpture, painting, poetry, rap, writing, and song came together from the town of Leogane and the villages of Komye, Bigonet, and Barrier Jeudi to share their work with one another and discuss the formation of a Haitian Artists Association to support professional artists in refining their talent, helping distribute and market work, perform nationally and internationally, as well as create a workshop as a place to produce, create, and record work.
* Solar Mango Dryer: Leah and Tech Valley High School students took leadership with farmers and volunteers in Komye to construct a bamboo-framed solar mango drier to convert the surplus unmarketable portion of the mango harvest into delicious dried mango to prevent vitamin A deficiency in the off-season and create a value-added product for local markets.
* Reforestation: We weeded and gave compost and water to hundreds of tree seedlings planted last year. We also took inventory of the trees and gave awards to those who stewarded the greatest number of living trees, and awarded the young students with buttons who's trees had survived from last year.
* Commemoration to Honor the 4th Anniversary of the Earthquake: People wrote prayers for Haiti on colorful strips of cloth and tied them to the limbs of a beloved tree in the center of the village. We marched in song to the memorial built in 2011 (in collaboration w/ Ayiti Cherie Healing Project) – with the names of those ancestors born of the quake. At the renewed memorial (freshly painted), we poured libation, gave offerings, sang, and prayed. New flags were raised (one Haitian, one Pan-African) and the memorial was filled with compost, rubble, and soil to plant beautiful native flora that now grows from within the remembrance of those earthquake victims as a symbol of regeneration.
* Community Cultural Celebration: AYITI VIVAN! (Haiti Lives!) was attended by 2,500 people in downtown Leogane and featured over 15 Haitian artists from the city and the village, and international artists from Ayiti Resurrect. Visual artists exhibited their work, and musicians, dancers, singers, and poets delivered powerful performances with bumpin' deejay sets and moving speeches in between.
* Sustainability: To support the continuation of the incredible work and energy galvanized during the delegation, AR offered gifts and donations to support ongoing activities in Komye. We donated a laptop to assist in the formation of a women's group; gifted the Bigonet Peasant Movement with funds to start a seed bank; provided the Mango Growers Association with means to build fencing to protect the sapling nursery from livestock and funds for future tree planting; offered the Bigonet school resources to give a stipend for folks in the community to lead classes at the school once a week for the year; donated art materials, cameras, and school supplies to the community center and school; and we offered donations of 1,000 condoms plus over $1,000 worth of medical supplies for the Health Clinic.
In our closing community meeting of evaluation and gratitude, one of our partners in Komye shouted out "AYITI RESURRECT IS A MOVEMENT!" We feel so grateful for the movement growing in the minds of heart of people, not only in Komye but inside all of us in our collective. A movement that harnesses the creativity of our imaginations, the medicine of the land, the wisdom in our lineages, the unstoppable resilience of our spirits, and the limitless possibilities born when people come together in true partnership with one another.
Thank you to everyone who supported this delegation with funds, material donations, and prayers. Thank you to our delegate team for giving of your love, time and resources. Thank you to all our partners and collaborators in Haiti for your tireless work and for welcoming us into your lives. Thank you to the land for nourishing us, and to all the spiritual forces that guided our journey. MESI ANPIL! Ayibobo!
SEE MORE! 
Click here to see an album of photos on Ayiti Resurrect's FB page.
See also Leah Penniman's album with photos of the sustainability work here.
and Adaku Utah's glorious technicolor album here.