Ayiti Resurrect's January 2012 delegation was an incredible confluence of dedicated individuals coming together across nations to make an offering toward social, spiritual, emotional, physical, and environmental health in Haiti. A powerhouse team of holistic healers, artists, musicians, dancers, yoga instructors, permaculture gardeners and environmental innovators from the Haitian and African Diaspora travelled to Leogane to work in partnership with artists, healers and community organizers living in Haiti. See below for a list of all the delegates and collaborators and their offerings!
Core collective members Angelique Nixon, Beatrice Anderson, and Naima Penniman were hard at work throughout 2011 planning for the 2012 delegation: communicating with partners over the phone and email, traveling to Ayiti to meet in person and insure community input in the planning, devising a model for sustainable programming, fundraising for ground expenses, and assembling our team of delegates.
The 2012 delegation was a powerful culminating moment of two years of relationship building and grassroots organizing. Our fourth collective trip to Ayiti since the earthquake, this time we were accompanied by 17 people who share our vision for cultivating genuine people-to-people solidarity among members of the African diasporic family while reinforcing the strength and autonomy of the Haitian community. Over the course of three weeks coinciding with the second anniversary of the earthquake, we deepened relationships, exchanged knowledge and resources, carried out health services and trainings, and organized cultural and environmental education programming that served hundreds of people daily.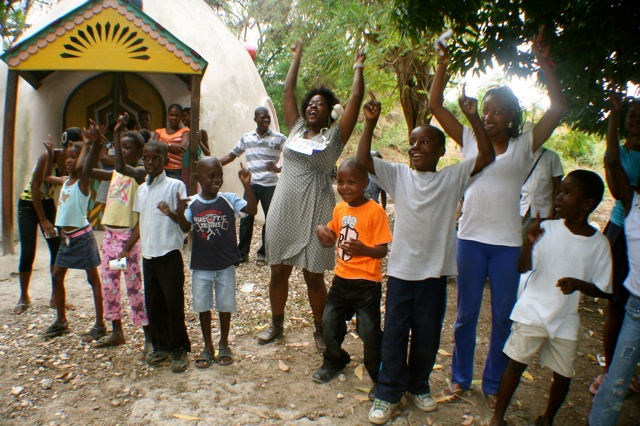 During the first week, sisters Naima and Leah were an unstoppable team meeting with partners and collaborators in Cormier and preparing for the delegation's arrival. The first morning after the delegates from the U.S. and across Haiti arrived, community members led an orientation to the locale showing us visitors important features of their neighborhoods: the temple, sculpture studios, the composting pile, Ducken's tombstone, the thousands of mango trees they planted on the hillside. There was a tremendous feeling of graciousness, pride, and connection.
The next two days were the bedrock for the powerful collaborations that would arise: a healer from Harlem working alongside a healer from Port Au Prince, a farmer from Grafton trading knowledge with an agriculturist from Bigones, a mask-maker from Leogane facilitating a workshop with an artist from the Bronx, a yogi from Les Cayes co-teaching with a yoga instructor from Los Angeles. We met in our facilitation teams to plan the workshops and services, gather materials, determine the site, and spread the word through megaphones, sign boards, and door to door publicity.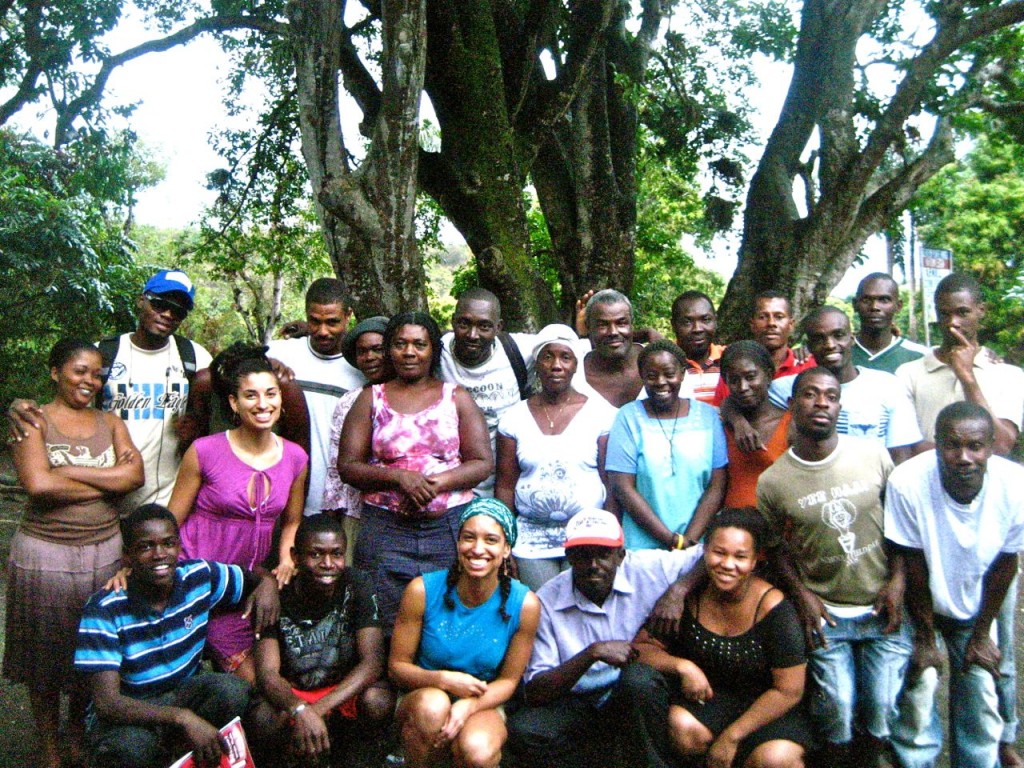 Here are photographs by Anthony Moultry of orientation and preparation days! 
The three days that followed were the culmination of our efforts during which we implemented a holistic wellness clinic, carried out an environmental sustainability education project, and facilitated art and music therapy workshops with and for quake survivors. Every morning the clinic offered free services to community members: Massage, Reflexology and Reiki; Women's Reproductive Health; Plant Medicine; First Aid and Emergency Medicine; Sessions with a Professional Psychologist; and Re-Evaluation Counseling (training in peer supported healing from the hurts of oppression, violence, tragedy, poverty and loss).
The afternoons were filled with creative activities and skill-shares including: Haitian and African Diasporic Dance; Story Telling, Performance Art and Poetry; Mask Making to Express Emotions; Drumming for Freedom; Yoga and Meditation; Stone Sculpture; Self-Esteem, Natural Self-Care, and Body Awareness for Women; Theatre; Women's Empowerment Circles; Herbal Medicine Walks; Sustainable Agriculture Skill Shares; Recycled Arts and Crafts; Solar Oven Workshop; and Composting Toilet construction.
Read reflection from delegate Leah Penniman who lead composting and agriculture workshops as well as peer-to-peer counseling!
Non-Kreyol speakers were paired up with Kreyol speakers to facilitate communication. Tireless translation work by delegates Sandrine Malary, Jennifer Celestine, and Jean-Baptiste Jean-Wisnel made the days run smooth, especially for the health clinic and workshops.
On January 12th, the two year anniversary of the earthquake we hosted a commemoration to honor those that passed in the earthquake, offering ceremony to those Spirits whose final rites of passage was interrupted by the chaos of massive devastation. And to celebrate the resiliency of those who made it through– still breathing, still living, still laughing, still loving.
People wrote their dreams for their future, the future of their community and the future of Haiti on colorful strips fabric and adorned the tree in the middle of our gathering place. We raised new flags on the monument we built in collaboration with Ayiti Cherie Healing project and the Cormier residents last year that lists the names of the community members who passed in the quake, and sang a song composed of concepts developed by children. Fanm Haïtienne drew a vévé (a graphic prayer symbolizing a lwa) on the earth with cornmeal and wood ash, and enlivened the space with drumming and dancing asa rites of passage for the ancestors born of the quake. Workshop participants had the chance to share what came out of our time together: performing poetry and theatre, drumming, dancing, demonstrating yoga postures. It was a powerful demonstration of creativity arising from the aftermath of widespread destruction.
Once the week was over, we had a meeting between the co-organizers and facilitators and volunteers to evaluate how everything went and to talk about how we could sustain the momentum of our time together for ongoing programming and service. It was such a beautiful assembly overflowing with gratitude and inspiration, and ripe with laughter, applause, chills and tears.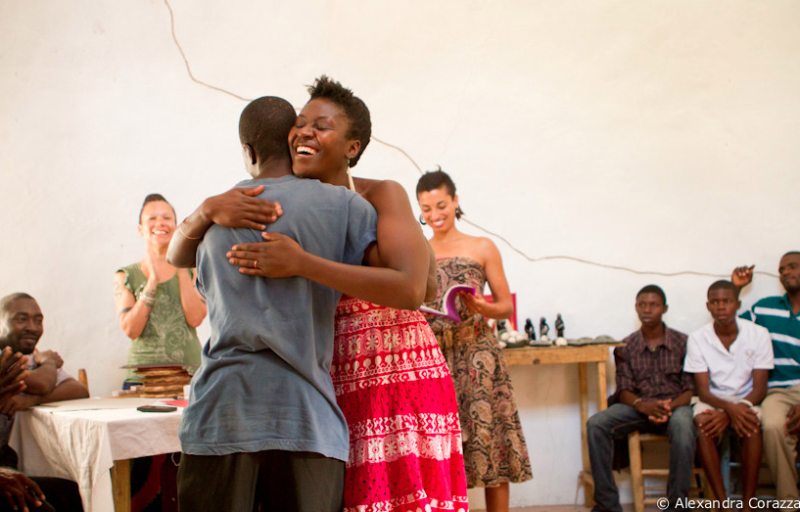 Many exciting ideas and commitments came out of the conversation. Highlights included: sustaining the wellness clinic in the community center for regular care; ongoing agricultural skill shares exchanging methodologies to support the attainment of self-sufficiency in farming methods that sustain the community; starting a Language Center in the community center to have Spanish and English classes; creating a community studio and workshop for stone sculpture; continuing the dance classes throughout the year, and on and on.
People in Komye already volunteered to take on certain roles, and our partner organization APMKL is hosting "town-hall" meetings every third Sunday to unify behind a vision for Cormier's evolution, and assess what resources, skills, wisdom, and other assets exist amongst the community to push forward the vision. Ayiti Resurrect has taken on a supportive role of supplying resources, information, tools for agriculture and reforestation, supplies for the health clinic, materials for workshops, and international exposure for the artists.
It is incredible the energy brewing in Cormier right now! It is equally amazing what folks who came from outside of Cormier are taking back with them. Jean-Baptiste Jean-Wisnel, a delegate from Mirebalais (in central Haiti) is enthusiastic about bringing back the knowledge he gained from the composting toilet workshop he translated. He has inspired plans to build one in his own community and to train people in the other provinces he visits through World Water Relief. Carmen Mojica's vocation as a healer was affirmed and expanded, and she returns to the Bronx with renewed inspiration for service to women's health justice and reproductive care. Sandrine Malary who led a recycled art workshop, not only introduced the concept of crocheting with plastic bags to Cormier, but returns to Oakland with a new skill and discovered passion for stone sculpture that Cormier is famous for.
May the inspiration ignited through our work together continue to ripple out infinitely. May the impact be meaningful and enduring. Ayiti Resurrect is committed to continuing a relationship of support and solidarity with our growing family in Cormier. Thank you for being part helping us sustain this commitment in any way you are able!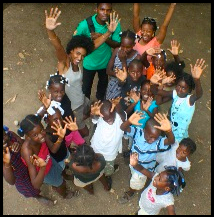 2012 DELEGATE AND COLLABORATOR CONTRIBUTIONS

Naima Penniman: Founder, Core Collective Member; Coordination and Administration; West African Dance Facilitator; Recycled Art and Solar Oven Assistant

Angelique Nixon: Core Collective Member; Coordination and Administration; Health and Wellness Clinic Intake; Storytelling, Poetry and Performance Art Facilitator

Beatrice Anderson: Core Collective Member; Coordination and Administration; Assessment and Community Development Support

Gabrielle Civil: Storytelling, Poetry and Performance Art Facilitator

Maurice Sangodele Ayoka: First aid and Emergency Medicine Facilitator

Leah Penniman: Pre-delegation Coordination; Re-Evaluation Counseling; Composting Toilet Construction; and Sustainable Agriculture Skill-Share Facilitator

Jennifer Celestine: Health and Wellness Clinic Intake; Translator; Storytelling, Poetry and Performance Art Facilitator

Carmen Mojica: Health and Wellness Clinic Practitioner- Reproductive and Women's Health, Massage, Reiki; Mask Making Facilitator

Majida Sharriff: Facilitator of Stress Relief through Movement, Yoga and Dance

Sandrine Malary: Translator; Facilitator of Re-Evaluation Counseling; Recycled Art Making; Solar Oven Construction; Self-Esteem, Natural Self-Care, and Body Awareness for Women

Atiba Kwabena: Facilitator of Drumming for Freedom, Musician for Yoga and Meditation

Nkosi Nkululeko: Facilitator of Drumming for Freedom

Iya Anoa: Wellness Clinic Practitioner- Reflexology, Reproductive and Women's Health

Anthony Moultry: Photographer; General Support

Alexandra Corazza: Photographer

Jean Baptiste Jean Wisnel: Translator; General Support

Pierre Samson Berlus: Facilitator Yoga and Meditation, Translation Support

Frenel Clervil: Facilitator of Drumming

Dr. Robert Francois: Health and Wellness Clinic Practitioner- Plant Medicine and Massage, Facilitator of Herbal Medicine Walk

Madame Wilner: Health and Wellness Clinic Practitioner- Plant Medicine and Massage, Facilitator of Herbal Medicine Walk

Hyacinth Judith Laratte: Health and Wellness Clinic Practitioner- Reproductive and Women's Health

Dubois "Pastor" Edmin: Health and Wellness Clinic Practitioner- Nurse and Plant Medicine Specialist

Ismael Luc: Facilitator of Stone Sculpture

Natha Inelus: Facilitator of Sustainable Agricultural Skill Share

Roberta Doccy: Professional Psychologist

Louis Noncent: Secretary General of Mango Growers Association or Cormier (APMKL)

Dimmy Sanon: Primary APMKL point person, Coordination and Administration

Louis Frantz Laratte: Facilitator of Mask-Making and Natural Arts

Marie Henry: Facilitator of Activities and Games for Young Children

Wislerson D Louis: Facilitator of Sustainable Agriculture and Composting Skill Shares

Anax Forestal: Facilitator of Sustainable Agriculture and Composting Skill Shares

Moliere Jean-Baptiste: Facilitator of Sustainable Agriculture and Composting Skill Shares

Zaude Sanon: Facilitator of Sustainable Agriculture, APMKL member

Luckner P Louis Jr: Facilitator of Sustainable Agriculture, APMKL member

Clermont Lamy: Facilitator of Stone Sculpture

Nathacha Augustine: Facilitator of Haitian Dance with Fanm Haïtienne

Andrelie Gustave: Facilitator of Haitian Dance with Fanm Haïtienne

Fanm Haïtienne, Other Dancers: Tisser Desosier, Gustave Alride, Janita D-Haiti, Lucie Clerge

Fanm Haïtienne, Drum Ensemble: Wesner Enelus, Ju Bruel St. Fleur, Rony St Fleur

Mme Ivelia Exoude: Volunteer Head Cook